{{ timeAgo('2020-03-25 08:41:59 -0500') }}
football
Edit
Dominic Oliver learned a lot during virtual junior day
Although the official junior day activities at Kansas were canceled due to the Coronavirus, recruits were taken through a virtual tour of the program last week.
The event caught the attention of a lot of people in recruiting circles around the country. It allowed future prospects to get a close look at the program without being on campus. One of those was Dominic Oliver from Valley Christian in California.
"It was really cool," Oliver said. "I got to learn more about the football program. But I was really interested to see all around campus, other areas and the majors they offer."
Oliver has already formed a strong relationship with Chidera Uzo-Diribe who has several ties to the west coast.
"Coach Chidera is the best," Oliver said. "Most of the time we don't even talk about football. It's just building a connection and a relationship. Obviously, he's a great football mind. It's just great to know that he went through this whole process. He was highly recruited coming out of high school and then he went to the NFL. We talk about family, music and things like that. He's a great coach and a great person."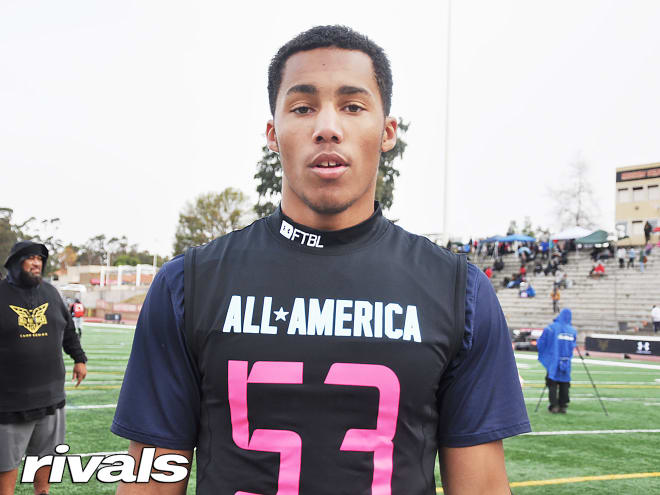 One thing Oliver learned recently is the University of Kansas was recently rated the number two college town to live in. He learned a lot of things during his virtual junior day and from other information Uzo-Diribe has sent him.
"I didn't know it was ranked the number two college town in the nation," Oliver said. "Coach Chidera sent me a bunch of stuff that I could do out there. We have been talking about the spiritual life, and what I could do related to God out there. I learned a lot more about Kansas that I didn't know before that."
Oliver, at 6-foot-3, 205 could project to several positions. Uzo-Diribe coaches the outside linebackers so that is the position the Jayhawks are recruiting him for.
A visit to Kansas has always been in the plans and depending how the travel situation develops in the upcoming weeks, he would like to visit Lawrence in the summer.
"I definitely want to come take a visit, maybe in the summertime," he said. "I was supposed to go in there in the spring, but I was in baseball season so I couldn't really miss any games or practices. Now that the whole Coronavirus situation is going on, I think I'll definitely try to come out there in the summer."