Five quick thoughts after the Texas Tech game
The Jayhawks fell to Texas Tech 65-19 at homecoming. Here are five quick thoughts following the game.
Wise, Armstrong did their part up front
With so much attention being put on the lack of a pass rush from the front four, both Dorance Armstrong and Daniel Wise turned in good performances against Texas Tech.
They combined for 14 tackles and two sacks.
If the defense is going to have any kind of improvement those are two players who can help the fastest.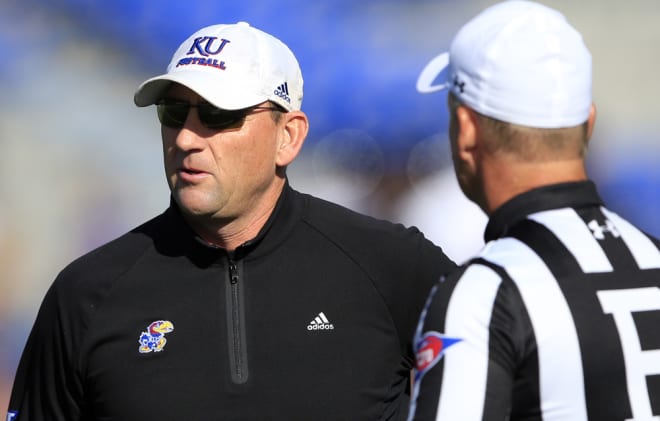 The quarterback position is back to square one
Carter Stanley said Doug Meacham told him at halftime he would see more action and he went the distance in the second half. After the game Peyton Bender said he didn't know what to expect going forward.
Beaty felt Stanley gave them a boost when he entered the game.
"We're certainly looking to get Carter in there with more opportunities," Beaty said. "The game was just kind of going such that Peyton didn't have a great feel in the game today, it didn't feel like. Carter looked like he had a spark."
The quarterback position now has that fall camp feel to it as both players are competing to win the job heading into the Iowa State game.
"We'll have to watch the tape," Beaty said. "It's going to be a competition, so we'll see."
The Jayhawks start slow once again
Another talking point over the last four games has been the slow starts. That continued again today as the Jayhawks fell behind 21-0 in the first quarter. But Beaty wasn't to give in and said they need to continue to work.
"I don't get disappointed," Beaty said. "We go to the next play. It is what it is. Y'all want me to say "disappointed" a bunch, I'm not going to do it. We're about our next play, period! Am I happy about the way things turned out? No, I'm not! But, I mean, I'm not ready to flush this thing, I can tell you that. We're going to be all right. We'll get back to work tomorrow and we'll be ready to go."
Questions come up about two missing starters in the secondary
The secondary was playing without two starters from the week before. Derrick Neal and Hasan Defense weren't in uniform and their status for next week appears to be up in the air.
"Hopefully we can get Hasan back here healthy next week," Beaty said. "He's got mono, so I don't know how long it's going to be until we can get him back."
The news on Neal sounded much different.
"He's not with us," Beaty said. "He wasn't with us today. He wasn't dressed. You've got to win a spot to be able to dress. He didn't dress today."
Asked if Neal was still with the team, Beaty didn't have a concrete answer.
"We'll see how all that works out," he said.
The Iowa State game got more difficult after Saturday's results
Before the season if someone looked down the schedule and tried to find one of the best chances for a win on the road, most would point to Iowa State. The Cyclones went on the road today and upset #3 Oklahoma. The chances on paper decreased quite a bit after today and the Jayhawks are likely to be a big underdog in Ames next Saturday.
"That's not a surprise to me when it comes to the fact that they've got some parts now," Beaty said about Iowa State. "I think the quarterback is really, really good. I think the line is really, really good. What they do schematically is very, very tough. It's tough to defend. They do a good job defensively. Matt does a great job. It's going to be a challenge for everybody."