Jayden Russell picks Kansas, will help recruit others
When Les Miles took the job at Kansas he said he wanted to put an emphasis on recruiting the area. The next day he took to the phones calling recruits in Kansas and Kansas City backing up his words.
One of his first calls was to Jayden Russell the top-rated cornerback in Kansas. Russell remembered that call and was one of the main reasons the St Thomas Aquinas product gave his verbal commitment to the Jayhawks.
"Since Coach Miles got the job he just made me a priority," Russell said. "When I talked to him he told me to come to KU and let's change the culture. Once he was announced as the head coach I was the first person he called. It just showed me how much they really wanted me. I decided KU was the perfect fit for me."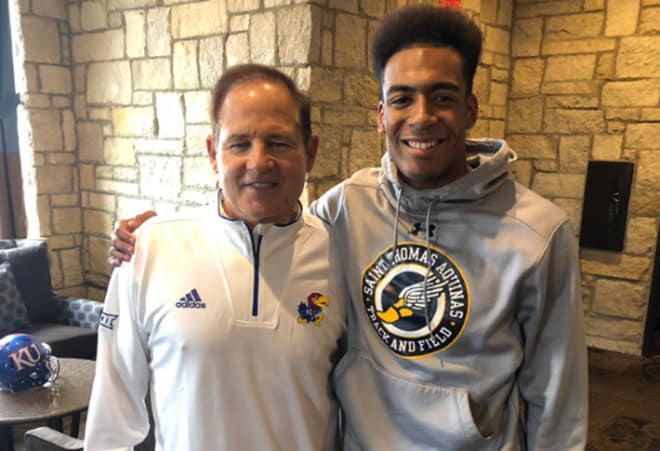 Russell becomes the first commitment under Miles. He took his official visit last weekend when the first group of recruits were in Lawrence. Before the visit he also got to know defensive backs coach Chevis Jackson who saw him at Aquinas and later with a home visit.

When Russell decided to commit to Kansas, Miles bolted out of a meeting where he was interviewing a prospective coach.
"Oh, they were fired up," Russell said. "They've been wanting me to commit since my official visit. They were just super excited. Coach Miles was interviewing coaches and he stopped what he was doing to take my call and talk to me."
On the official visit Russell was joined by his mother, father, and younger brother. He said his family felt comfortable on the visit and being around Miles and Jackson. They gave their advice during the process but left the decision up to Russell.
"They liked what Coach Miles had to say and what he brings to the table," Russell said. "They're just excited and they said it comes down to what I want. They kind of gave me input they would like me to stay close and everything, but they said if I wanted to go away they would support that."
Russell was told by the Kansas coaches they want to run an aggressive defense. Miles told Russell he expects him to help lead it from the defensive backfield.
"He wants to bring back that DBU like he had at LSU and wanted me to be the first one," Russell said. "He wants me to help install that into the defense. He wants me to run the defense from that safety position. He thinks I can really control the defense."
The recruiting has come to an end with Russell's decision. He said it will give him time to "act regular for the rest of high school." He admitted he has taken a lot of calls and people asking him and his family what college he will attend.
The decision part is over for Russell. But now he will turn to recruiter and do his best to attract recruits to Kansas with him.
"I think we are going to get some other recruits pretty soon," Russell said with a sly chuckle. "I've already been working on that."