{{ timeAgo('2021-04-07 13:27:28 -0500') }}
basketball
Edit
Joseph Yesufu on attending Kansas: "I'm very blessed"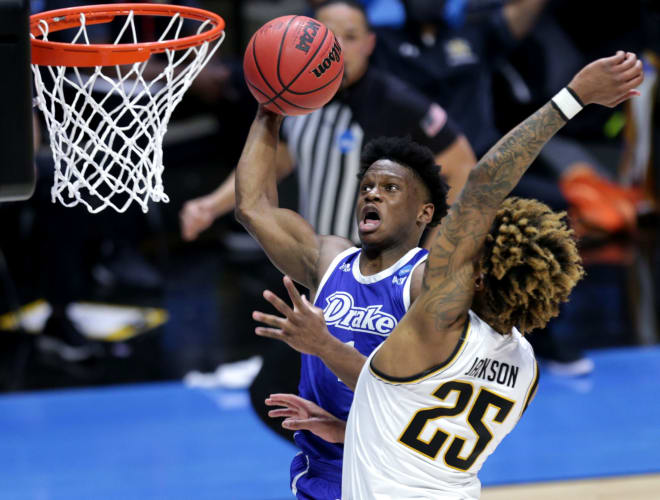 On Wednesday afternoon, Kansas added a key piece to its roster. Joseph Yesufu, the 6-foot-0, 180-pound point guard from Bolingbrook (IL) recently entered the transfer portal after spending his first two years at Drake.
Not long ago, Yesufu committed to Kansas over USC and Georgia.
"I chose Kansas because I'm trying to be a better player, better person," Yesufu told JayhawkSlant.com during a phone interview on Wednesday afternoon. "Coach (Bill) Self gives me the opportunity to do so. I'm trying to help the team and make the fans proud."
This past season, Yesufu, in 31 games, averaged 12.8 points, 1.8 rebounds, and 1.8 assists per game. Offensively, he shot 44.2 percent from the field, 38.4 percent from behind the arc, and 81.2 percent from the free-throw line.
However, Yesufu was simply at this best when Drake needed him the most. Just how good was the talented point guard late in the season?
Yesufu scored 20 points against Northern Iowa, 32 points and 36 points in back-to-back games against Evansville, 16 points and 21 points in back-to-back games against Bradley, 25 points against Missouri State, 12 points against Loyola (IL) and, in the NCAA Tournament, Yesufu scored 21 points against Wichita State and 26 points in a loss to USC.
Yesufu averaged 23.2 points per game in the last nine games of the season and hit four or more threes in five of those nine games.
Yesufu, who entered the transfer portal last Thursday and spoke to Self on Friday, is very much looking forward to the start of his career in Lawrence.
"Coach Self said I have to work for everything. He said, 'Be ready. We're trying to go places, trying to win a national championship this coming year,''' Yesufu said.
Since losing in the first weekend of the NCAA Tournament to USC on March 22, KU's roster, which Self expected to take place, already looks significantly different.
Gone are Tyon Grant-Foster, Tristian Enaruna, and Gethro Muscadin. There's been speculation that Latrell Jossell will eventually end up in the transfer portal, but he still remains a member of the University of Kansas men's basketball program.
With Christian Braun, Dajuan Harris, Jalen Wilson, Chris Teahan, Michael Jankovich, Bryce Thompson, Ochai Agbaji, David McCormack, and Mitch Lightfoot expected to return, Self and has staff will also welcome in Yesufu, K.J. Adams, Zach Clemence, Bobby Pettiford,, Cam Martin, and Sydney Curry.
A number of prospects remain unsigned, including elite point guard Tyty Washington and small forward Christian Bishop, but before any major decisions are made, Self must make a decision about what his final roster is going to look like before adding to his roster.
With a spot on the roster locked up, Yesufu is very much looking forward to embracing this opportunity.
"It's a great basketball program, a great fanbase," he said. "I heard that Lawrence is a great place. I'm really blessed."