Mike Lee wants to expand his role from just a big-hitter to a leader
As a true freshman Mike Lee developed a reputation as one of the biggest hitters in the Big 12. That was a good start for year one, but Lee wants to be more than a hitter.
Defensive coordinator Clint Bowen told Jayhawk Slant one of the things that impressed him about Lee in the off-season was his ability to get in the film room and learn more about his position.
The secondary took a hit with graduation losing four starters in Marnez Ogletree, Brandon Stewart, Tevin Shaw, and Fish Smithson. Although Lee will be playing his second season of college football he knew his role would change this year.
"I knew I was going to have to be a leader especially in the defensive backfield," Lee said. "I have to talk more to the cornerbacks, safeties, and nickels. If I don't say anything who is going to know what calls we are in?"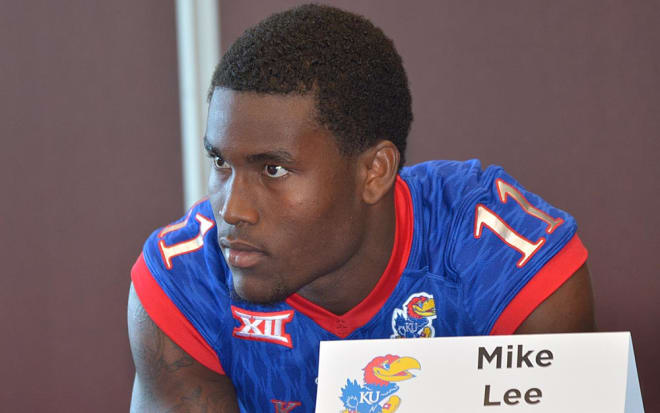 Lee has seen a difference with several players through fall camp compared to the previous year. This is the third year some players have been in Bowen's defense and even the newcomers have picked up the scheme faster.
"Last year in fall camp I felt like we were still learning," he said "This year everyone is bringing the energy and there is great competition. Everybody is working hard because we want to get some wins. We have some junior college cornerbacks who have played a lot of football, returning safeties and Derrick Neal at nickel. All of those guys are performing and I hope I can help get these guys ready to go."
There were some good match-ups in fall camp between the defensive secondary and receivers. The Jayhawks receivers are expected to have a deep group this year. Lee talked about the receivers who are challenging to cover in practice.
"Stephen Sims, Tyler Patrick, and Daylon Charlot are some of the guys that are tough to cover," he said. "They're making us better and I feel we're making them better in some of the one-on-ones. We have been physical in practice and talking trash with each other. We're just trying to get better every day."
Last season Lee made several post-season lists including Rivals.com Freshman All-American team. On top of that he made the Big 12 Commissioner Honor Roll and Athletic Director Honor Roll.
Kansas assistant Tony Hull has made quick in-roads recruiting Louisiana talent to Lawrence. Lee has had a helping hand in that.
"When I first came here people back home didn't know much about Kansas football," Lee said. "Since I got here and what I did my freshman year I hear a lot more people talking about Kansas football. I'm glad I could help with that. I am really excited to go back home to hear people talking about Kansas football. That makes me smile."