Player Profile: Davon Ferguson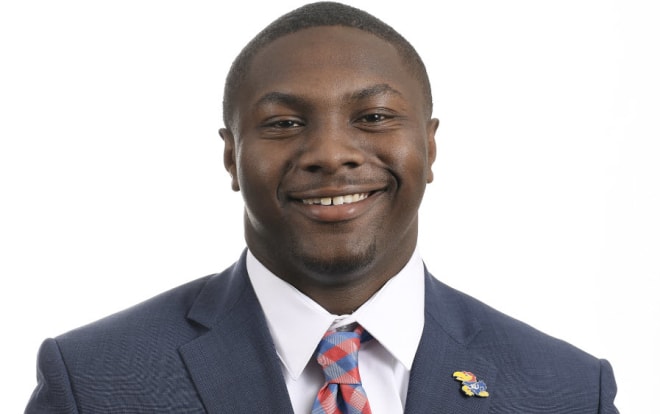 #7 Davon Ferguson
Position: Safety
Height: 5-10
Weight: 197
Class: Junior
Hometown: Baltimore, Md
High School: St. Vincent Pallotti (Hartnell College)
2019 (Jr.): Indiana State: Saw playing time in the season opener … Recorded three tackles … Coastal Carolina: Matched his career high in tackles with three solos vs. the Chanticleers … at Boston College: Again recorded three tackles against the Eagles, matching his career best while at Kansas … West Virginia: Contributed two assisted tackles to the Jayhawks' defensive effort against the Mountaineers …at TCU: Matched his then-KU career high in tackles against the Horned Frogs with three (one solo, two assisted) … Oklahoma: His tackle-for-loss resulted in the Sooners losing 23 yards … Made five tackles (three solo, two assisted) on the day, marking a new career high as a Jayhawk … at Texas: Contributed three solo tackles to the Jayhawks' defensive effort against the nationally ranked Longhorns … Texas Tech: Earned his first start of the season for the Jayhawks, where he led the defense with seven solo tackles and forced his first fumble of the year, and in his KU career, in the Homecoming victory over the Red Raiders, 37-34 …Kansas State: Led the KU defense for the second-straight game in tackles; this time he surpassed his previous season/KU career best by contributing eight total tackles (seven solo and one assisted) … at Oklahoma State: Made his third-straight start of the season for the KU defense in Stillwater … Again among the Jayhawks' best players on the afternoon against the nationally ranked Cowboys, in which he totaled eight tackles (seven solo, one assisted) for the second-straight game and also registered 1.0 TFL, which also matched his season/KU career best in the category … at Iowa State: Made his fourth-consecutive start for the Jayhawks at safety … Tallied eight tackles total against the Cyclones (five solo, three assisted), which tied his season and Kansas-career best, achieved two other times this season, most recently at Oklahoma State … Also broke up an ISU pass, his first such stat of the season … Baylor: Recorded four total tackles (three solo, one assisted) in his fifth start of the season for the Jayhawks … Made one tackle-for-loss (of four yards) against the Bears, tying his season and career highs.
2018 (So.): Appeared in four games at safety and on special teams, before taking a redshirt … Recorded six tackles, including five solo … Had one interception for 12 yards and a pass deflection … Rutgers: Recorded two tackles in the win … at West Virginia: Credited with three tackles and his first-career interception.
2017 (Fr. at Hartnell College): Collected 55 total tackles, including 41 solo hits ... Recorded two interceptions, one of which he returned for a touchdown ... Also posted two fumble recoveries and two forced fumbles ... Averaged 9.6 yards per punt return to lead the region ... Posted seven kick returns for 182 yards, an average of 26.0 yards per return ... Earned All-Golden Coast Conference First Team honors and was named Hartnell's Defensive Back of the Year in 2017 ... Played for head coach Matt Collins at Hartnell.
High School: Helped lead the St. Vincent Pallotti Panthers to a 10-2 record and a MIAA Conference title in 2016 ... Played under head coach Ian Thomas at St. Vincent Pallotti HS ... Forced seven turnovers from his free safety position in 2016.
Personal: Son of Lachelle Redd and Damon Ferguson ... Has two brothers; Damon Ferguson Jr., and Deonte Ferguson ... Also has two sisters; Lache Dabney and Layah Redd ... Father, Damon, lettered in track at Central State ... Plans to major in sport management.