Beaty: Loneker has been inspiration, four running backs get mention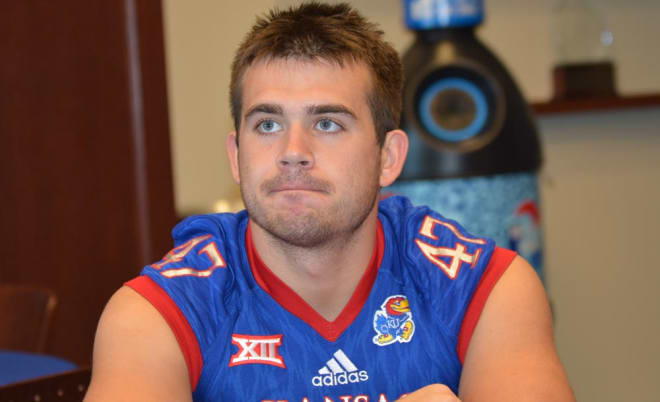 If anyone has followed KU football over the past few decades then you know who Keith Loneker, Senior. Loneker was an offensive lineman for the Jayhawks when they turned the program around in the Glen Mason era. He was an All Big Eight selection and played three years with the Rams.
After that Loneker moved to the big screen earning an acting role in several movies. He was always around Lawrence and had a personality that could light up a room.
On June 22 Loneker passed away after a battle with cancer. But the family name is staying strong inside the Kansas program with his son Keith Loneker, Jr. The transfer from Baker started four games last year and had 43 tackles.
"He's been great," Beaty said of Keith Jr. "I think he's been inspirational to our guys. There's times when I pulled him aside, and I know Coach Bowen's pulled him aside, Said, Hey, man, listen, it's okay. I mean, this was hard. There's going to be a time you got to grieve, right? You got to get through it. He's got an unbelievable family. Keith Sr. had such a great, close-knit family and friends that were all there till the very end. I know he has grieved. But he's handled it here."
The day before his father passed away Loneker was at summer workouts. Beaty remembers telling him he didn't need to be there.
"He's like, No, I do need to be here my dad wants me here," Beaty said. "Then the very next day was when we lost Keith. He's been phenomenal. He's been inspiring. I don't know that I could be as strong as he's been with what he's gone through."
Beaty likes what he sees from running back group
The Jayhawks are likely looking at running back by committee. Beaty was asked how importance it is to have a featured back in the Air Raid offense. For now there are four backs that Beaty mentioned during his media day press conference who appear to be in the running for carries.
"I just got off the field and watched Dom Williams do some stuff that you don't see young guys do very often," Beaty said. "He's talented. This dude can run. Great vision, great balance. We hit on him. There's no doubt about it. I mean, he's going to play. Unless something happens and he gets hurt or something, I mean, that boy is going to play for us. He's a good football player."
The experience of the group comes from Khalil Herbert and Taylor Martin. They were the second and third leading rushers from last season and are fighting for the starting job. The fourth is Deron Thompson, a transfer from Colorado State. Thompson was a three-star recruit coming out of Wichita Northwest.
"Khalil continues to improve," Beaty said. "Great vision, smooth feet, very patient, getting even more patient, which is good. Deron Thompson, I mean, that dude, every time we put the ball on the ground, he's going to make a big run somehow, some way. He's so quick. He's fast. He can cover a lot of ground. He just runs away from people.
"Taylor Martin, another guy that we don't say a whole lot about him, but I think he's gotten better because of all these guys around him. It's really just made him become more of a complete back, which is good."
The competition is expected to go into the final week of game preparations before the depth chart settles in. Beaty likes what he has seen the overall from the group.
"I'm excited about our backs," he said. "We've got some guys."