Bradford leaving Beaty's staff and will work in the oil business again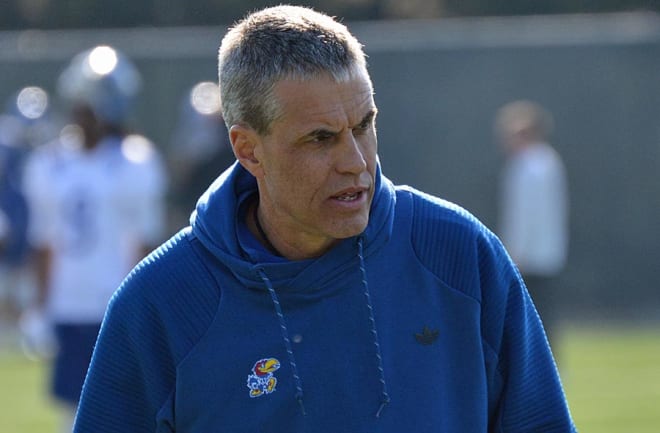 When Todd Bradford joined David Beaty's staff he felt it was the right time to get back into coaching. Bradford had stints at Oklahoma State, Southern Miss, and Maryland before he got in the oil business. He was taking care of his ill mother when Beaty called to see if he was interested to get back in coaching.
After sitting out Bradford decided the time was right to rekindle his coaching career.
Two years later Bradford is moving back into the oil business.
"A guy that I was involved with and had business dealings when I was in the oil world before I was helping with my mom reached out to me," Bradford said. "He told me he had some companies that were doing really well and he needed someone to come in and help me run them. He asked if I was interested and I told him I was happy coaching.
"Then he called two more times after that and offered me the job after signing day. I turned it down twice. But each time the offer was getting a little bit better and by the third time financially it was oil world money."
RELATED: Bradford after taking care of his mother will join Beaty's staff
Even after the big offer Bradford didn't immediately jump at the opportunity. He had to think things over before he reached a decision.
"I actually went about three weeks because I didn't want to do it," he said. "I looked at every reason not to do it. It is a situation from a family standpoint and economically for someone my age I feel like I had to do."
Bradford said there were several reasons he wasn't ready to jump at the big money. He believes the program is going in the right direction and wanted to be a part of it.
"Number one I'm a football coach and I love football, and coaching the kids," Bradford said. "I love being with the guys that we have. Number two I'm a big believer in David, Clint, Dr. Zenger and Kansas. I love Clint Bowen. I think he's the best football defensive mind that I have been around. The combination of all those I believe are going to get it done and Kansas is on the right path. It breaks my heart to know that I won't be there when it happens."
Bradford said the Kansas is one of the toughest rebuilds that college football has seen. After being a part of the program the last two years he said getting it turned around will take the right recipe.
"There is no way to rush it and make it happen faster," Bradford said. "You have to change the culture, the roster, and several things around the program and it takes time to do that if you're going to do that the right way."