Clayton Tune meets with KU staff, re-commits to the Jayhawks
Clayton Tune was one of the first quarterbacks the Jayhawks offered for the 2018 class. He gave the Jayhawks a verbal commitment last February and stayed committed for eight months.
Last October Tune de-committed from Kansas after a long talk with the coaching staff. But the two sides stayed in contact during the time.
On Sunday when the Kansas coaches were allowed to be on the road recruiting they met with Tune and his family.
"Coach Beaty, coach Perry, and coach Riley all came to my house," Tune said.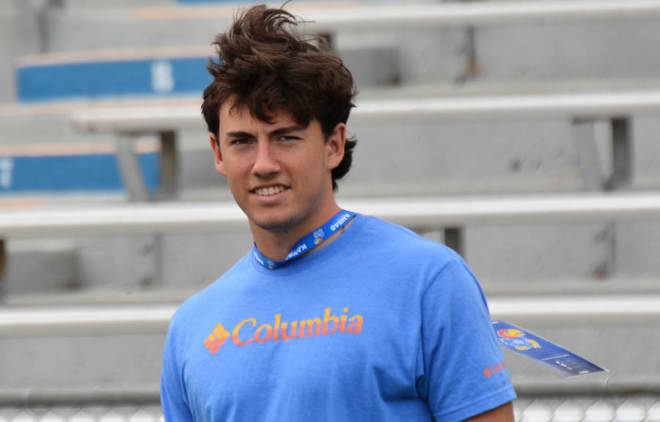 During that meeting Tune re-committed to the Kansas staff and set up an official visit for Dec. 8.
"It was cool wait to see them seen them because I haven't seen them in a while," Tune said. "And catching up with him was kind of fun. They were telling me what to expect when I get there and it was a good experience to meet with them. One thing that has stood out is the coaching staff and their loyalty and we really liked them as people coaches as well."
Tune was the highest-rated quarterback who was still uncommitted in Texas. He threw for 6700 yards in his career at Hebron and was voted the District Player of the Year as a junior. (The district teams have not been released for 2017)
One of the biggest stats was his 400 yards rushing and nine touchdowns on the ground. Tune injured knee during Hebron's playoff run as a junior. When he attended the Kansas Friday Night Lights this summer he said his knee was finally getting back to where he felt comfortable running. So it was a good sign to his mobility back to full strength.
"I felt like I was stronger than last year and honestly I got faster," he said. "I had more explosiveness which sounds weird but that's how I felt."
Even after he committed to Kansas Tune picked up offers from Houston and North Texas and serious interest from Baylor. But he's back with the Jayhawks and plans to graduate early so he will be in Lawrence for spring football.
"It is exciting and to know that I'm going somewhere to try and have an immediate impact," he said. "So that is exciting."
Highlights of Tune senior year and kickoff for a touchdown
Below are some of Tune's highlights from his senior season including the second clip where he returned a kickoff for a touchdown. It isn't often you see a quarterback doing kick returns.
"That was a spur-of-the-moment thing during," Tune said with a laugh. "That game we had three receivers out and on that particular kick we thought they were going to onside kick it so we had our hands team out there. The guy that was supposed to go back was one of our receivers who was hurt. The head coach looked at me and I was the first person he saw so I went out there."