Kalon Gervin talks about switching to Kansas
When Kalon Gervin entered the transfer portal in late September, Kansas was one of the first schools to offer him a scholarship.
Gervin ending up taking a visit to Wisconsin and eventually committed to the Badgers. It looked like he would stay in the Big 10 after leaving Michigan State.
But over the last couple weeks the Jayhawks entered back in the picture and started making a push for the talented corner.
Last weekend Gervin took an official visit to Lawrence to learn more about the program and meet the coaching staff. He also got a chance to reconnect with Michigan natives Cornell Wheeler and Rich Miller.
"I have known Cornell since he was four or five," Gervin said. "Our older brothers played football with each other. I played against Rich in high school he went to King who was our rival. We all played in the same little league together. Those guys are good people and good dudes."
He liked what he saw on the official visit.
"Most importantly they have great coaches, a great staff and campus," Gervin said. "They were one of the first schools to hit me up when I entered the portal. The official visit was great. They made me feel like a priority, and everything was a huge factor."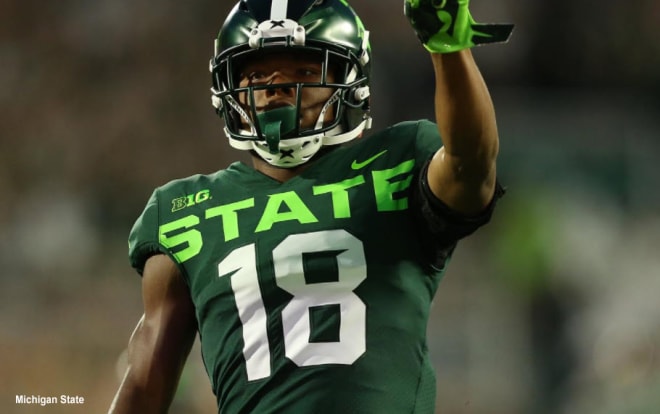 The Jayhawks used a team approach and several coaches and staff members helped in the recruiting. Jordan Peterson who recently was promoted to the corners coach bonded with Gervin on the official visit and during the in-home.
Scott Aligo was the former Director of Player Personnel at Michigan State. Brian Borland played a part. Chris Simpson is well-connected in the Detroit area and knew him. Rob Ianello knew family members of Gervin.
"Coach Peterson is cool and a great guy," Gervin said. "He just got hired. We've been talking a lot. He's a great dude. He's been just sitting with me talking football. He's a great guy. I met his wife and she's a great person.
"Coach Borland the DC is a great guy, and he has got a lot of plans for me. Of course, Coach Leipold is a great dude. We spent a lot of time with each other, met his wife, and they are great people."
Ironically the Jayhawks just hired Terrence Samuel to be the new receivers coach and he recruited Gervin to Michigan State. But Gervin said Samuel was not recruiting him to Kansas, but it is another familiar face he will know.
When Gervin signed with Michigan State he was the number one prospect in the state according to the Rivals rankings. He was also the 17th rated cornerback in the nation. He played in the Under Armour All-American game and was voted Associated Press Division One player of the year.
Gervin plans to join the team in January and is looking forward to playing in the Big 12.
"I'm excited to go to play in the Big 12 and play corner," Gervin said. "Put my head in the pile and put my work on display. I think I bring that lockdown mentality, speed, versatility and leadership."