Bowen wants to see the "edge" return this week on defense
One of the strengths for the Kansas defense on paper going into the season is supposed to be the defensive line. But as the third week of fall camp begins defensive coordinator Clint Bowen isn't necessarily giving passing grades to the interior part of his defensive line.
"They are going okay," Bowen said. "None of them have stepped up in my opinion. All of them have a lot more to give. We are constantly on those guys to play better, play better technique, better fundamentals, strike, and use your hands. When you are 330 pounds and getting moved that's a problem. Those kind of things can't happen. We have a lot of guys rolling through there. I don't know that we have one of them who is playing at the level that we need them to play."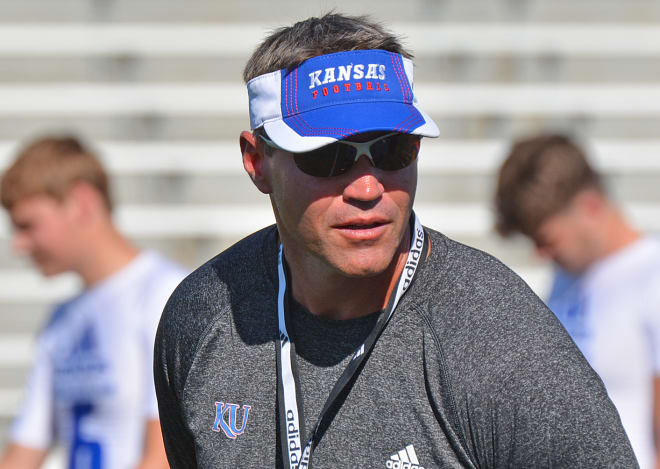 And Bowen's message went past the defensive linemen to the entire defense. He wants to see better pursuit getting to the football and creating turnovers. He wants to see more individuals playing with the edge they talk about.
"We're a long way away from where we need to be," Bowen said. "We're still having to get on the guys too much about chasing the ball. We are on the guys too much about the constant effort to rip the ball out. There are few things that I truly believe we should be ahead of where we are right now and he hopes to see that improve this week.
"I think assignments and getting lined up are okay. But not playing with the edge that we need to play…you can call it whatever you want competitive toughness, that you are going to find a way to get your job done no matter what. We have some guys who are playing with that type of edge about them. We have some time to continue to improve and beat that home. And that is our mission for this week."
Bowen did mention a few players including Joe Dineen, Keith Loneker, Daniel Wise, and Bryce Torneden as those who come with that edge on most days.
"But those guys are without their plays as well," he added. "It is just a mentality that every spring and every fall it is the number one objective to get done. You have to play defense with an edge mentality. If you don't there's going to be problems."
Going through fall camp Bowen can always bring in another player and move him up the depth chart to get a spark. But that doesn't always work and he is looking for all of the players to step up.
"That is always your biggest carrot that you have as a coach is playing time and sitting a guy down," Bowen said. "Reality is we need them all. We need them all to embrace it and I think we have to do a better job as coaches getting them to understand the importance of it and how it affects games. Part of it is (fall) camp that kids get tired a little bit and it tends that the edge falls off. We can't allow it to happen and we have to continue to develop the good habits."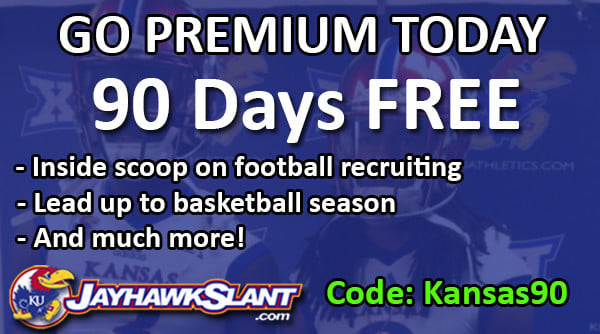 You can now join Jayhawk Slant for 90 days FREE on the house! The offer is good through August 31, 2017.
Leading into basketball season you can follow the Jayhawks recruiting in basketball and football. You will get team coverage, analysis, video, photo galleries, and behind-the-scenes recruiting info.
You also get full access to the premium message boards to discuss Jayhawk sports with thousands of KU-only fans.
The Jayhawks will kick off the football season the first week of September and official visitors will start arriving around the same time. You can follow all of the news.
It is easy to sign up. All you have to do is pick if you are a returning/registered user or new user.
Please use the CODE: KANSAS90
RETURNING/REGISTERED USER SIGN UP:
If you are a past member or have registered for a user name you can sign up by going HERE
Remember use the code: KANSAS90
NEW USERS SIGN UP:
If you are a new user and don't have a user name you can sign up by going HERE
Remember use the code: KANSAS90