New indoor practice facility will be recruiting tool
With the Raise The Chant campaign underway it is expected around $300 million of that will go to the renovation of Memorial Stadium.
On Friday KU athletics director Sheahon Zenger alongside chancellor Doug Girod announced they will start phase one of the project after the football season. That phase will be the new indoor football facility located next to the Anderson Family Football Complex.
Over the last two years the football complex has added new locker rooms, meeting room, player's lounge, and nutrition center. That totals around $4 million in upgrades, but it will pale in comparison to what a new indoor facility will bring to the program.
"When we talk about the indoor facility and some other things, these are facilities that could have and maybe should have been built a 20-25 years ago," Zenger said.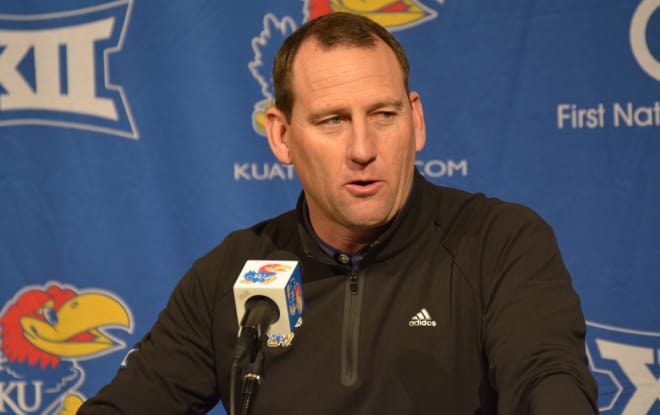 After spending close to two decades working with KU Med, Girod oversaw patient care, community engagement, and research among other areas. He knows a little about what recruiting can do in any college environment.

He wants head coach David Beaty to have all the tools to get play on the same level as other schools he is recruiting against.
"In athletics it is all about recruiting," Girod said. "It is having the tools to be competitive with our peers to be able to recruit the best talent for our teams. That is how you start to move the needle.
"We are the only institution in the Big 12 that doesn't have a dedicated indoor facility. That is a problem for us when it comes to recruiting. To me it is making sure that we have what we need to recruit the best talent and student athletes to give them the tools to go on and have successful careers."
Construction on the indoor facility will start in December. KU officials said today they don't have details where it be located yet. You can bet Beaty will be on the phone with recruits telling them about the latest news.
"From a recruiting standpoint it is an instant position of strength," Beaty said. "It puts us in a terrific position because the commitment level for athletics is there. It's going to be there. That is an advantage. The great thing is our people understand what is needed. We have very intelligent leadership that understands this climate so well."