Jayhawks land quarterback Miles Kendrick after official visit
In the final two months of the season the Kansas coaches were looking hard at the junior college ranks for a quarterback. As December came and went it looked like that possibility was diminishing.
But the staff had been consistently recruiting Miles Kendrick from San Mateo College, although it was never reported and known to the public.
This weekend Kendrick made a visit to Lawrence with his mother and plans to join the program soon.
"It was amazing," Kendrick said of the visit. "Number one, the education you get is great along with the support you get. That is important to me and my family. Talking to the academic advisors and having a chance to be successful and getting a degree from Kansas is big time. It is a great college town. We drove around everywhere. My host Reese Randall took me by some houses and everybody was accommodating."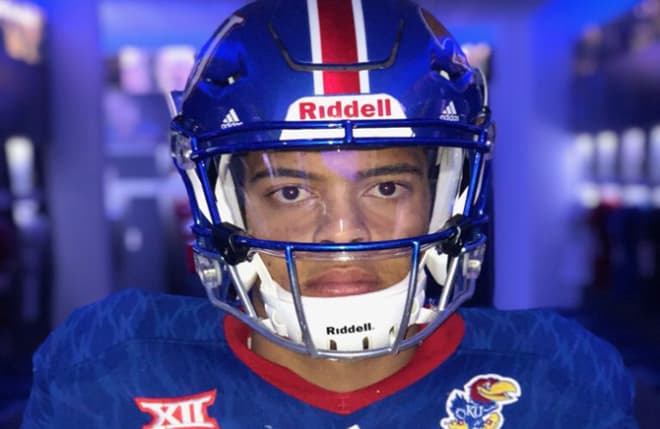 The Kansas staff first made contact with Kendrick last November. At the time San Mateo was ranked number two in the state and Kendrick was leading them in their playoff run.
"I talked to Coach Meacham, Coach Riley, and Coach Williams at first," he said. "We connected right off the bat. I knew Kansas was serious when they reached out to me and that made me pay attention to them right from the start."
Kendrick stayed in constant contact with the coaching staff through December. Then they set up the official for the middle of January.
"We talked a lot in December," Kendrick said. "The ball really got rolling but we established a good relationship a long before that. I was intrigued with Kansas and when they set up the official visit I was ready to roll. I have been thinking about Kansas and the Jayhawks for a while."
During his visit he spent time around all of the coaches including David Beaty. As the visit came to a close, he reached the decision to get his career going at Kansas.
"I'm going to go back home for a couple days and get everything straightened out," he said. "Then there is no turning back. I will head to Kansas and get to work."
Kendrick has always had to prove he can play quarterback
One thing Kendrick has always battled is proving he can play quarterback. One reason he fights that stigma is because he is 5-foot-10. When he went to Valley Christian High School he heard it. But he played quarterback his whole high school career. As a senior he led Valley Christian to the state championship game in California.
He was voted All-CIF and co-NorCal Quarterback of the year as a senior.
While attending Valley Christian he worked out with Adam Tafralis who trains a lot of the quarterbacks in the area.
"He is my quarterback coach and mentor," Kendrick said. "He works closely with Trent Dilfer and the Elite 11 so he's very involved in that. It helped me because he was also the strength and conditioning coach at Valley Christian. Getting a chance to work with him every day in high school from my freshman year to senior year and I've been continuing to work with him, has been great for me. It has helped me a lot."
Kendrick went to Sam Mateo, one of the top junior college programs in California and had to compete for a starting job. He was going against Shawn Akina, a transfer from Arizona State and the son of Stanford assistant coach Duane Akina.
Akina started the first three games and was leading the NorCal area in passing. But in week four the coaches decided to go with Kendrick as the starter. He started against Butte throwing for 265 yards and running for 85. He led San Mateo to a 51-12 win and won the job for the rest of the season.
"I got a shot against Butte and I had a good game," he said. "It was my first start and I had to prove myself to the coaches that I could be the starting guy."
Kendrick helped take San Mateo to the state championship where they lost to Fullerton, who is the two-time defending California champs.
After taking over as the starter Kendrick threw for 1900 yards and rushed for 425. He was the second leading rusher on the team. He accounted for 23 touchdowns and completed 58 percent of his passes. He was voted the first team, all conference quarterback.
"Being 5-foot-10 has pushed me through my whole career," he said. "People told me I should be a running back or a wide receiver and everyone has their opinions. But that has motivated me to play quarterback like I have a boulder on my shoulder.
"In high school I went to the state championship and then at San Mateo I went to the state championship. I have proved to people that I can win games. It doesn't matter how tall I am. Whether I am 6-foot-4, or 5-foot-10 it is about the product on the field and winning ball games."
Kendrick is a rare four by three recruit who is eligible at mid-year. He is a full academic qualifier. That gives him the chance to compete in spring football. It makes him closer to a high school recruit than a typical junior college recruit. He's ready to enroll at Kansas and enter the competition at quarterback.
"Having a chance to come in January is something else that intrigued me about this opportunity," he said. "I get a chance to come in mid-year and have a chance to prepare and learn for the competition. I am excited. I've had my first taste of competition at San Mateo and I think it will be fun."
Film clips of Kendrick